Mitral Valve Stenosis
Mitral valve stenosis
Mitral Valve Stenosis describes a condition where the mitral valve narrows and fails to open properly. This impedes the movement of blood from the left atrium to the left ventricle which results in poor flow of blood to the rest of the body. The left atrium thickens and dilates and the blood pressure in the lung arteries starts to rise. Then, abnormal heart rhythm disorders such as atrial fibrillation develop, further reducing the efficiency of the heart. Many of these secondary problems become permanent over time and should be avoided by early intervention. The best cause of action to fight Mitral Valve Stenosis is undertaking Mitral Valve Stenosis treatment – and, of course, diagnosis – early on.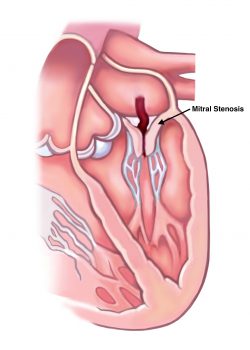 What are the benefits of keyhole heart surgery?
Mitral Valve Stenosis Causes
Calcification of the mitral valve as a result of rheumatic fever in childhood is the most common cause of Mitral Valve Stenosis. Other causes of Mitral Valve Stenosis include calcification of the mitral valve due to old age, and occasionally as a result of congenital deformity.
Mitral Valve Stenosis Symptoms
There are many Mitral Valve Stenosis symptoms that you may experience, that may indicate to you that you require Mitral Valve Stenosis treatment London. Shortness of breath, ankle swelling, and palpitations are typical symptoms of Mitral Valve Stenosis. Patients sometimes present with palpitations following the development of atrial fibrillation, it's best to get checked out by a doctor as soon as possible should you begin to experience what you believe may be Mitral Valve Stenosis symptoms. Read on to find out about the best Mitral Valve Stenosis treatments available.
Mitral Valve Stenosis Treatment London
After a diagnosis, sometimes the best mitral valve stenosis treatment London – if caught early enough – is drugs and monitoring the condition. Diuretics (water tablets) are useful in the medical treatment of heart failure associated with Mitral Valve Stenosis. Drugs like Digoxin are used to control the rate of atrial fibrillation, and patients can be sustained with medical therapy for many years since the progress of mitral stenosis is slow.
Surgery for Mitral Valve Stenosis Treatment London
Mitral valve replacement is a good treatment for Mitral Valve Stenosis once significant shortness of breath develops. There are a few kinds of surgery that can be used as treatment, including Keyhole Mitral Valve Replacement. At the Keyhole London Heart Clinic, we would always recommend a minimally invasive keyhole approach, in order to minimise pain, scarring and recovery time for the patient.
Mitral Valve Stenosis and Keyhole Replacement of The Valve
As it is our preferred method of treatment surgery, the team at The Keyhole Heart Clinic perform keyhole mitral valve replacement through a small cut between the ribs on the right side of the chest in suitable candidates. Keyhole surgery should only be undertaken by highly skilled surgeons, as it requires very precise surgery. However, keyhole surgery, versus traditional open-heart surgery, means the patient heals in a matter of days rather than in weeks. The scar is much smaller, more subtle and concealed, because there is no breastbone break the patient is in less pain, there is no chance of bone infection, and there is much less bleeding. Below is a diagram of where the keyhole incision might take place:
Keyhole approach to the mitral valve:
Have any questions about Mitral Valve Stenosis or Mitral Valve Stenosis Treatment London, or any of the treatments we carry out here at The Keyhole Heart Clinic? Please feel free to get in contact with us – our friendly team at the Keyhole Heart Surgery will be more than happy to answer any queries you may have, and help put your mind at ease!
Testimonials
What Our Patients Say
MH 2019
"I simply typed in heart bypass surgery into the search page and the first option was The Keyhole Heart Clinic. This instantly had my interest and I promptly called only for [Mr Birdi] the surgeon himself to answer my call ! He then invited me down to the clinic for a chat.. I could not..."
Mr CW
"Complex aortic aneurysm surgery with aortic valve repair "Mr Birdi wasn't pushy, he had an aura about him. I felt confident that he would fix me. He was so passionate about what he could do. As upsetting as it was to learn about the danger I was in, I felt I could trust him. He..."
MR. DH
"To say I was shocked to learn that I needed a heart operation would be an understatement. I was hoping of nothing more than antibiotics for a chest infection right up until the results of my angiogram. My first contact with Mr. Birdi was on the telephone and his quiet confidence made me realize this..."
MR. KC
"The undoubted skills, amazing commitment and total dedication were second to none. The caring attitude from you and your team will not be forgotten and I cannot thank you enough for extending my life through your skills and effort throughout my time at the operating theatre and the Orwell Suite. Mr. Birdi made what was..."
MR. LM
"I had never been in hospital or had any form of surgery. I was therefore terrified of having this operation. From the first day I met him, Mr. Birdi put me at ease and explained everything about the surgery and recovery. I chose the Orwell Suite for my surgery. The standard of care was incredible..."
MR. PH
"From start to finish I was dealt with great professionalism and the care that you would expect from world-class surgeons. Mr. Birdi was very friendly and helpful in explaining the procedure step by step to me. He explained all the options and advised on the best and most effective treatments available. The surgical procedure went..."
MR. RE
"From our first meeting I found Mr. Birdi's calm reassurance and confident manner convinced me that I was in the best possible hands. Mr. Birdi dealt personally with the arrangements for my surgery and even undertook to contact my family post surgery. My operation has been a resounding success and enabled me to continue living..."
If you have any questions about any kind of heart surgery - or want to chat to one of our friendly team - please feel free to get in touch and someone will get back to you as soon as possible.
Get in touch with our expert team at The Keyhole Heart Clinic.